BANDS
HOT TOPICS
SEARCH

PARTNERS
RADIOHEAD
Band info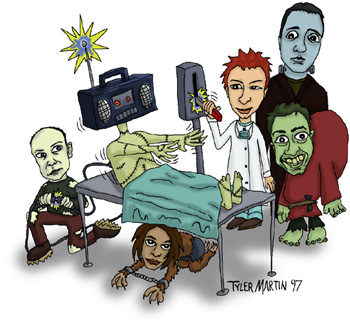 Thom Yorke: vocals, guitar, piano
Ed O'Brien: guitar, vocals
Jon Greenwood: guitar, recorder, piano, organ, synthesizer
Colin Greenwood: bass
Phil Selway: drums

The five members of Radiohead first met at a private boys school in Abingdon, Oxfordshire. Thom Yorke formed what would become Radiohead with school friends Ed O'Brien, Colin Greenwood.
The addition of Colin's brother Jonny Greenwood completed the line-up.
On A Friday played their debut gig at the now defunct Jericho Tavern in Oxford. With a musical canon resembling a youthful Talking Heads, they added two saxophone-playing sisters to fill out the band.
However, the band were then put on hold.
At Exeter University, Yorke played guitar in a techno band, Flickernoise, while Selway drummed for various theatrical productions while studying at Liverpool Polytechnic.
The band regrouped in Oxford in the summer of 1991, deciding to dispense with the brass section and concentrate squarely on the band, now entitled Radiohead (after a Talking Heads song).
Their first commercial broadcast followed with 'Prove Yourself' on BBC Radio 1.
'Creep' then became the alternative rock song in the UK during 1993, its self-loathing lyric ('I'm a creep, I'm a weirdo, I don't belong here') stretched over driven guitars. Ignored when it was first released in September 1992, its re-release sparked
enormous interest. Taking the band into the UK Top 10, it also announced a Top 30 debut album, Pablo Honey.
Unlike other celebrated UK indie hopefuls such as Suede, Radiohead also translated well to international tastes, from the US to Egypt.
Two years of promotional activity followed, before the release of The Bends in March 1995. With the pressure on following the
plaudits, the recording process was not easy.
The Bends did not disappoint, with a vibrant mood range
encouraging Yorke's prosaic yet affecting lyrics. Notable tracks included 'High And Dry' and 'Fake Plastic Trees'.
By the end of 1995 The Bends had been universally acclaimed, enough to win them a Brit awards nomination as the best band of the year.
Two years later, the band unveiled its follow-up, OK Computer, which received the most spectacular reviews of any rock album in recent memory, and won the band a Grammy award in 1998 for Best Alternative Rock Performance.